WT02 Small Transport Case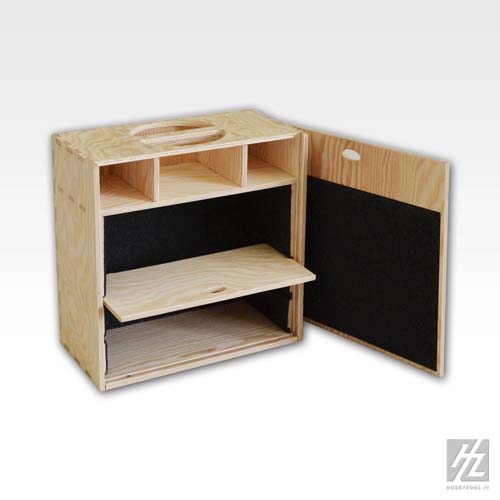 WT02 Small Transport Case is the best solution for the carriage miniatures and models, the interior is covered with felt so that your models are really safe. It was designed by professional modelers, thus creating a high-quality product that will meet all your expectations.  
Main features:
Assembled dimensions: 11.8" x 5.9" x 11.8" (30cm x 15cm x 30cm)
Shipping weight: 5.5 pounds (2.5kg)
Felted interior walls which provide protection of models/figures against damages
Internal removable shelf, three levels of height settings that allows you to make own configuration
Two handy niches for accessories and tools
Robust construction of case protects models during the transportation
Rubber feet provide stability for the case
A convenient handle for easy carrying
To stabilize each model inside the case, we recommend self-adhesive mass UHU Patafix which is available for purchase worldwide.
All of the HobbyZone products are made from sheets of plywood or MDF (dense particle board) wood which are machine cut (not laser cut) for a precision fit. Wood glue will be needed for assembly. We recommend painting the cases with the varnish to increase resistance to dirt that may occur during transport.
The WT02 Small Transport Case does not include models, brushes, paints, tools or accessories, pictures just show examples of use.
Color and texture of wood, may differ slightly from the shown pictures of product. Pricing and specifications may change without notice.