WM01 Benchtop Organizer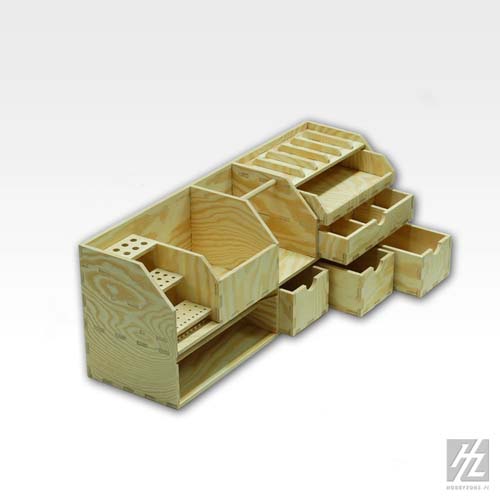 The WM01 Workbench Organizer - storage ideal for people who deal with modeling, or other handcrafts where you need a large number of small precision tools and accessories. With workbench organizer will always have work area clean and everything you need will always be at hand.
Main features:
Assembled dimensions: 23.6" x 8.7" x 6.7" (60cm x 22cm x 17cm)
Shipping weight: 8.1 pounds (3.7kg)
Few dozen holes of different sizes for drill bits, brushes, files, knifes or chisels
Three drawers for different accessories
Big drawer with six partitions
One half-open drawer
Parted upper cover for the tools
Large recess for paints, etc.
Rod for hanging scissors, wire-cutters, etc.
Long rod for sanding paper, wires, threads, etc.
All of the HobbyZone products are made from sheets of plywood or MDF (dense particle board) wood which are machine cut (not laser cut) for a precision fit. Wood glue will be needed for assembly.
Color and texture of wood may differ slightly from the shown pictures of product. Pricing and specifications may change without notice.