SDM01b Paint Station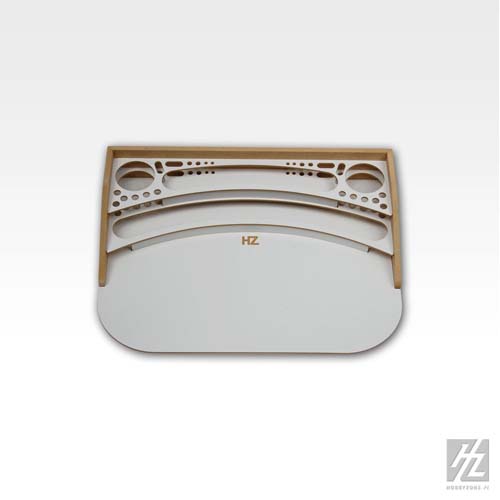 The SDM01b Paint Station - measures 15.7" x 11.8" x 2.4" (40cm x 30cm x 6cm), has two rows to put paint, a dozen holes for brushes, nail files, knives, glue, etc., and two water cup holders. Extended tabletop will provide a clean working surface. Shipping weight: 2.2 pounds (1kg)
All of the HobbyZone products are made from sheets of plywood or MDF (dense particle board) wood which are machine cut (not laser cut) for a precision fit. Wood glue will be needed for assembly.
The SDM01b features paint slots 36mm wide for paint storage. Some of the paints that will fit in the 36mm rows include:
Akan 15ml bottles
AK Interactive 30ml bottles
Ammo by Mig 35ml bottles
Anita's All Purpose Acrylics 2oz/59ml bottles
Apple Barrel Acrylics 2oz/59ml bottles
Citadel 0.8oz/24ml pots
Craft Smart 2oz/59ml bottles
Createx 2oz/59ml bottles
DecoArt Americana 2oz/59ml bottles
Delta Ceramcoat 2oz/59ml bottles
FolkArt 2oz/59ml bottles
Formula P3 18ml bottles
Games Workshop 12ml bottles
Gunze Mr Color/Mr Hobby 10ml bottles
Humbrol paint tins
Italeri 20ml bottles
Iwata Com-Art 1oz/30ml bottles
Life Colour 22ml bottles
Martha Stewart Acrylics 2oz/59ml
Model Car World 1oz bottles
MRP/Mr.Paint 30ml bottles
Patio Paint 2oz/59ml bottles
Revell 14ml bottles
Scale 75 17ml bottles
Tamiya 10ml bottles
Testors Craft Acrylics 2oz/59ml bottles
Testors ModelMaster .5oz bottles
Vallejo 30ml bottles
Vallejo Primer 60ml bottles
XtraColor paint tins
White Ensign Models paint tins
The SDM01b Paint Station does not include paints, tools or accessories, pictures just show examples of use.
Pricing and specifications may change without notice.