S02ns 26mm Large Corner Paint Stand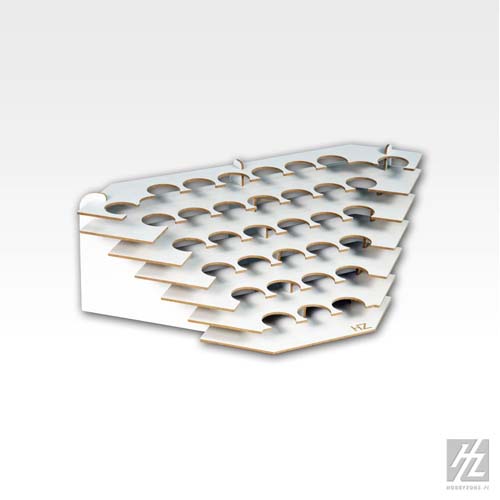 Thanks to stable holders, splashing paint is practically impossible. The set includes precision fitted parts to make the stand, and assembly takes only a few minutes. S02ns 26mm Large Corner Paint Stand is compatible with the S02b and S02s Large Paint Stands.
Main features:
Assembled dimensions: 12.6" x 12.6" x 5.5" (32cm x 32cm x 14cm)
Shipping weight: 1.7 pounds (.75kg)
Capacity: 49 holes for 26mm bottles
Some of the paints that will fit in the S02ns include:
AK Interactive 17ml bottles
Ammo by Mig 17ml bottles
Andrea 17ml bottles
Army Painter 18ml bottles
Hataka 17ml bottles
Reaper MSP 0.5oz/15ml bottles
Scale 75 17ml bottles
Vallejo Model Air/Model Color 17ml bottles
All of the HobbyZone products are made from sheets of plywood or MDF (dense particle board) wood which are machine cut (not laser cut) for a precision fit.
The S02ns 26mm Large Corner Paint Stand does not include paints, tools or accessories, pictures just show examples of use.
Pricing and specifications may change without notice.